What is Eid al-Adha – the feast of sacrifice?
In the final month of the Islamic lunar calendar, Muslims around the world celebrate Eid al-Adha.
If you're unfamiliar with the event, or just need to brush up on when it begins, we've put together a handy guide.
Let's start with the basics.
What is Eid al-Adha?
Eid (Arabic for the words "feast" or "festival") is an occasion celebrated by Muslims during significant events.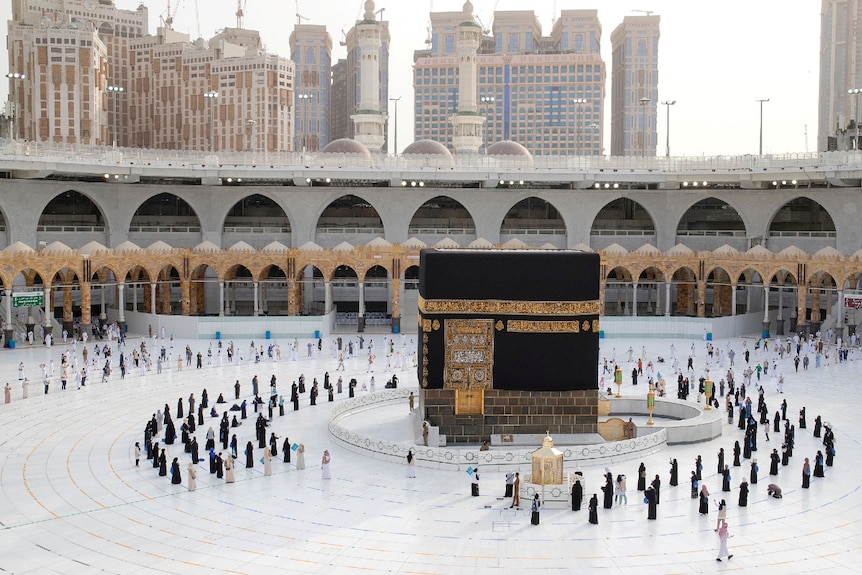 Eid al-Adha, also known as the Feast of the Sacrifice, takes place in the 12th month of the Islamic lunar calendar.
It shouldn't be confused with Eid al-Fitr, the Festival of Breaking the Fast which we'll explain in a minute.
Eid al-Adha marks the final day of the annual Muslim holy pilgrimage called Hajj, where millions of Muslims head to the Islamic holy site of Mecca.
However, because of the coronavirus pandemic, the ritual has been restricted to Saudi Arabia residents only.
When is Eid-al-Adha?
This year, Eid al-Adha is celebrated on the evening of Monday, July 19, and ends on the evening of Friday, 23 July.
What's the story behind Eid al-Adha?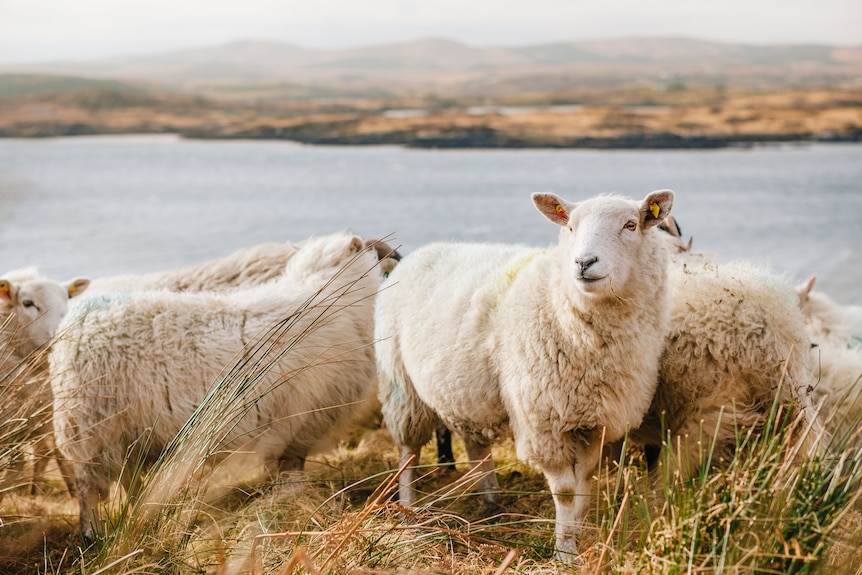 The celebration marks the trial faced by Prophet Abraham when he was told to sacrifice his son, Ishmael.
It's similar to the story in both the Christian and Jewish faiths, which believe Abraham was tasked with sacrificing his other son, Isaac.
The command was sent to test his obedience and submission to the will of God.
According to Islamic teaching, God replaced Ishmael with a sheep before the event could take place.
To commemorate this intervention, Muslims would slaughter sheep and other livestock which would be shared between family, friends and those less fortunate.
How is Eid al-Adha celebrated?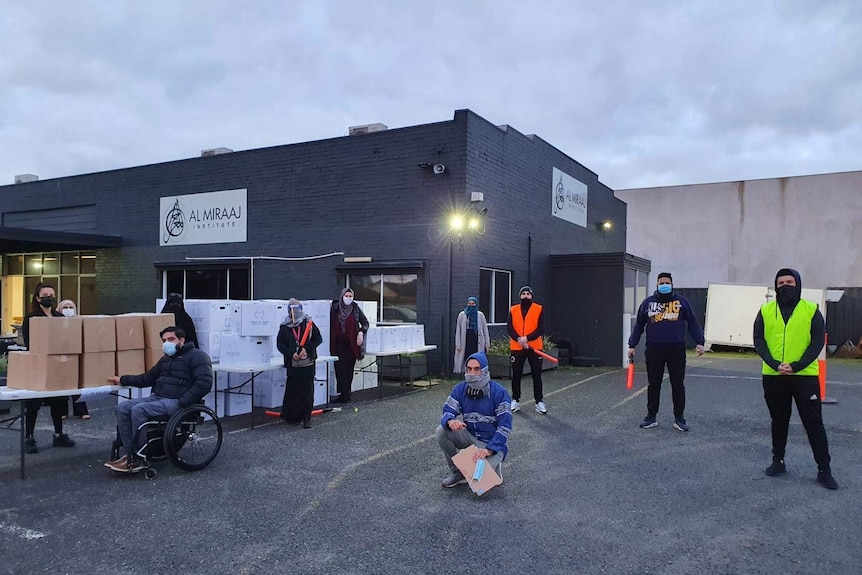 The pandemic has prevented Muslims outside of Saudi Arabia from taking part in the pilgrimage, and restrictions have prevented Muslims from gathering at mosques for communal prayers.
However, it doesn't mean they can't celebrate Eid al-Adha.
Muslims can still celebrate Eid with their families and carry out charity such as donating food and essentials to those in need.
But didn't Muslims celebrate Eid recently?
Yes they did but that was a different Eid, known as Eid al-Fitr.
Eid al-Fitr is the festival to commemorate the end of Ramadan which is when Muslims fast from dawn to dusk for a month.
Can you still say 'Eid Mubarak'?
Yep.
"Eid Mubarak" is Arabic for "Blessed Eid", so just like Eid al-Fitr, you can use the same greeting with your Muslim friends.
Bollywood: Why Somalis love Indian cinema
Indian cinemas are popular among Somalis in the Horn of Africa region with many households which own TV sets subscribing to at least one Indian channel which airs Bollywood movies and series.
The popularity of these shows is not restricted to the Horn of Africa country but extends to Somalis living in neighbouring Kenya and Ethiopia.
The love of Bollywood can perhaps be epitomised in this quote from one of several Somali pirates who was arrested by the Indian navy in 2011: "I love India and Bollywood. I have seen India on television and started loving it. I want to visit every Indian city," India's NDTV reported at the time. Among the items seized from the pirates – besides weapons – were DVDs of Bollywood films.
Popular Somali TV channels almost often air Indian soap operas. The movies are dubbed into Somali thus enabling viewers to follow the plot without any language barriers.
Cinema halls, and movie stores in the region, aimed at Somali audiences, almost exclusively screen or sell Indian films.
The popularity of the movies has also promoted Indian music, featured in the films, among Somalis. This music is often played at home or during weddings.
Before Somalia's Islamist al-Shabab group emerged, youths in the northeastern Kenya border town of Mandera would occasionally cross over into Somalia's Buulo Haawo to watch Indian movies. This was as a result of Muslim clerics, and the local authorities, clamping down on cinema halls which have sometimes been perceived as enticing school children into truancy.
Cinema halls in Al-Shabab-held areas in Somalia are non-operational as the Al-Qaeda-linked group considers pop culture "unIslamic". In 2006, the Union of Islamic Courts – the precursor to Al-Shabab – which was in control of central and southern Somalia, arrested, and flogged, many people for watching Indian movies in public entertainment spots.
In 2014, Al-Shabab banned the sale and use of smart phones in areas under its control. Part of the reason was to prevent locals from downloading and watching movies, or listening to songs, through their phones.
Somalis are also increasingly obtaining Bollywood gossip from websites and blogs which publish in their vernacular. Some of the popular websites for news and information on Indian films include Netherlands-based Fagaare.com and Raaciye.com.
A few years ago, an online forum, Somalinet Forum, hosted a discussion on whether Somali women should be allowed to watch Indian movies with critics opposing the shows saying they would encourage them to "ask their husbands to treat them the way Bollywood actors treat their partners.
Bollywood influence is common among students. Popular girls have often been given nicknames such as Kajol or Priyanka derived from star actresses Kajol Devgan and Priyanka Chopra. Boys on the other hand have been nicknamed after characters such Karan and Arjun, rather than the actors themselves.
Shah Ruh Khan, Akshay Kumar and Salman Khan are among the most popular Indian actors among Somalis.
Not every actor is referred to by his actual name. For example Akshay Kumar is often referred to as Mr Bond for his role in the eponymous 1992 movie directed by Raj Sippy.
Another actor, Amitabh Bachchan, is popularly known as Ali Dheere – the tall Ali – because of his height. Ali is a popular Somali name and it is easier for most Somalis since his real name is difficult to pronounce. Bachchan gained popularity in India's film industry in the 1970s and is one of the most influential Bollywood actors.
Indian films, unlike productions from Hollywood and Nigeria's Nollywood, are popular due to cultural similarities between Somalis and Indians. Hollywood is seen as violent and full of nudity and indecency.
Amina Ali, a 24 year-old mother of one in Nairobi, Kenya, is watching Kasamh Se (The Promise) – an Indian soap opera produced by Ekta Kapoor of Balaji Telefilms. The story is about three sisters Bani, Pia and Rano. After their father's death, the three sisters go to Mumbai according to what their fathers will said and go to live in Jai Walia's house a famous business tycoon who knew their father.
Malyun, Amina's younger sister, is fightingfor the remote-control.She wants to switch it into another channel airing her favourite series, Jamai Raja. Jamai Raja is the story of a young man Sidharth, who despite being a jet-setting hotelier with a growing empire to tend to, takes it upon himself to repair the estranged relationship between his wife Roshni and mother-in law Durga Devi Patel (DD).
"I like watching Indian films, we do have some similarities. We wear the saris as the Indian women and they don't show indecency films," said Amina.
The plots usually revolve around the themes of love, family relations, and arranged marriages, which attract Somali audiences.
The Indian female dress, the sari, is almost similar to the Somali 'garba saar' while women in both societies don't kiss in public.
Similarly, the fact that members of extended Indian families often live together is a trait that Somalis can closely identify with.
However, Indian films are facing competition from Yesilcam – Turkish cinemas. Turkish soap operas are also gaining popularity among this community. The filsm are bubed in Somalia, so there would e language barrier.
Despite Bollywood's popularity, few realise the shared cultural connection between these two societies on either side of the Indian Ocean.
A Somali Imam is Using Storytelling To Change Society and Political System
The Imam in a Mogadishu mosque discusses current affairs; he touched on the political fight between Donald Trump and Ilhan Omar, a Somali-born US Congresswoman, the Somalia,-Kenya maritime dispute and relations between the federal and regional governments, among others
Stories matter. People make sense of the world through stories and shape up how we understand it. Somalia requires new stories, but people will listen when they themselves are included in the story-line. An Imam at a mosque in Somalia's capital, Mogadishu, is doing exactly that, offering a new narrative to show what is possible. Sheikh Abdi Hayi is shifting gears and is bringing new ways of telling stories in an unlikely place: a mosque. Sheikh Abdi Hayi, a brown taqiyah atop his head, white and black-dotted turban draped over his shoulders, and in a white thobe, captivates his audience.
Somalis are now giving more attention to his sermons than they would a politician's speech. The difference between the two is obvious – Abdi's's is entertaining and informative. Politicians focus on how their clans could capture power in the next elections.
For the last three decades, politicians have failed to change the country and get it out of a 30-year-old mess. Somalia's problems cannot be solved by doing more of the same. New narratives like that of Sheikh Abdi's are needed – connecting people's motivations and promoting radical actions. Sheikh Abdi's stories engage people's minds, emotions and imaginations, which are drivers of real change – a change Somalia so desperately needs.
Sheikh Abdi focuses on social, cultural and political issues as well as current affairs in his Friday summons, using 'once upon a time' tales from pre-television and social media days, and uses examples from the Koran and Hadith – the sayings of Prophet Muhammad, peace be upon on him.
"I discuss what people think are important in their lives and what interest them. You can guide people in the mosque, this should be the place to discuss what matters to people, it could also be a rehabilitation centre," he says.
In one of his summons, the Imam discussed relations between the federal and regional governments, and the latter's opposition to the government in Mogadishu.
"These state governments you see are not what they seem to be. It is tribal governments," he says.
Somalia has five state governments, created under the country's federal system, each maintaining their own police and security forces which have a degree of autonomy over their affairs, but are subject to the authority of the federal government. Regional governments tend to oppose the federal government irrespective of who wields power in Mogadishu. Major clans lead each of these regional governments.
Sheikh Abdi urges Somalis to abandon clannism and work toward one Somalia.
"Our sister Ilhan Omar is fighting US President Donald Trump. Ilahn and Trump are at the same level. The US Constitution protects both of them," he told a congregation at a mosque in Mogadishu.
"Ours is a system that no one understands. We do not have a clear path to follow. Why can't we agree on a system that will guide us?"
"We've been doing this for the last 30 years, can we wait for another 30?" he posed.
Our system is like a person suffering from malaria and continues to take paracetamol drugs to relieve pain and reduce fever instead of going to see a doctor to seek medical care to eradicate the disease from his body, he says.
Although gains were made in the last few years, Somalia's central government is still weak and wrangles between itself and the regional governments are a factor slowing down further progress.
Sheikh Abdi's stories are now inspiring Somali communities around the world and they are being shared across dinner tables and mobile phone screens.
Rise in HIV/Aids infection among youth in Garissa shocking
The National Aids Control Council (NACC) has raised concern over rising cases of new HIV infection among young people in Garissa County.
Garissa regional coordinator Wario Boru attributed the growing threat to lack of parental guidance.
Also Read
Grade three pupils begin national assessment
Speaking in Garissa during a HIV and Aids Tribunal workshop that sought to sensitize area residents on their rights of HIV and Aids testing, Boru said that lack of sexual health knowledge coupled with unprotected sex among young people has seen the number of new infections increase in recent days.
Boru says the county prevalence estimates of 2018 was 0.8% meaning one out of 125 people live with HIV.
North Eastern is considered the region with highest percentage of HIV stigma in the country due to socio-cultural factors.
Source: Kenya Broadcasting Corporation