Six fun places to visit in Nairobi
Nairobi, Kenya's capital and largest city, still conjures all the romance and adventure of its colorful colonial days. The city evolved from a humble camp for railway workers in 1899 to the capital of British East Africa by 1907.
Today, Nairobi's rich history and tribal culture is brought to life in its excellent museums. The Karen Blixen Museum is a big hit – especially with fans of the Out of Africa book and film, who come to see where the namesake Danish author toiled on her coffee farm in the beautiful Ngong Hills.
But even in such a bustling city, wildlife is a huge draw. This cosmopolitan capital is one of the only cities in the world with a safari park in its borders. A mere 15-minute drive from the skyscrapers of the city center, you can enjoy a classic African wildlife experience at Nairobi National Park. Lion, cheetah, zebra, wildebeest, giraffe, rhinoceros, and buffalo roam the sun-soaked savanna here, and animal lovers can cuddle baby elephants and connect with giraffes at the excellent animal sanctuaries nearby.
Nairobi is also the gateway to the world-famous safari parks, which have captivated adventure seekers for more than a century.
Some businesses may be temporarily closed due to recent global health and safety issues.
1. Nairobi National Park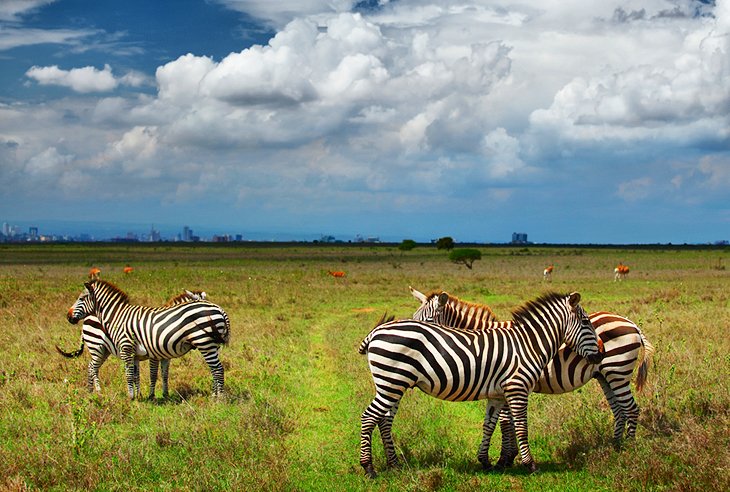 Kenya's first national park, Nairobi National Park lies only seven kilometers from the skyscrapers of Nairobi's city center. A haven for wildlife, the park is also a rhino sanctuary, which protects more than 50 of these critically endangered creatures.
In addition to the rhinos, you can see lions, gazelles, buffaloes, warthogs, cheetahs, zebras, giraffes, and ostriches, and more than 400 species of birds have been recorded in the wetlands.
Nairobi National Park is also a famous ivory burning site. In 1989, President Moi ignited 12 tons of elephant tusks and rhino horns here, boosting the country's conservation image on the world stage. Today, a monument marks this historic site.
The Nairobi Safari Walk is a popular attraction, offering animal lovers the chance to spot wildlife on foot, and walking trails weave around the area known as Hippo Pools.
At the park's main gate, you can bond with orphaned baby elephants and rhinos at the David Sheldrick Wildlife Trust.
Address: Langata Road, Nairobi
Official site: http://www.kws.go.ke/parks/nairobi-national-park
2. David Sheldrick Wildlife Trust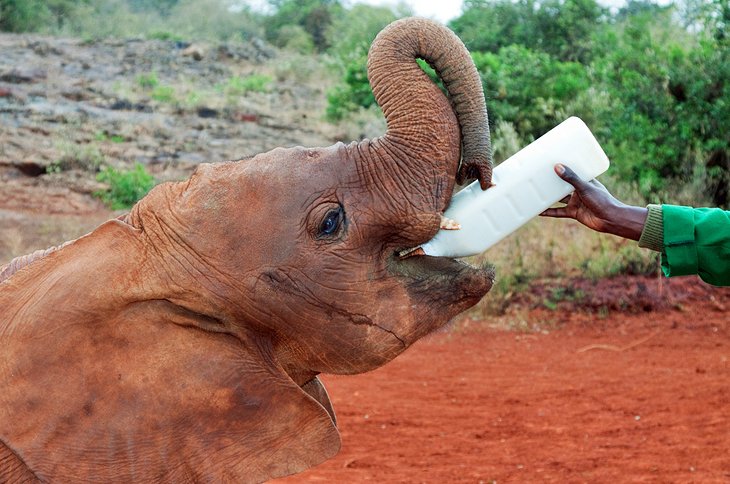 At the main gates of Nairobi National Park, this orphan-elephant rescue and rehabilitation program is a must-see for animal lovers. Daphne Sheldrick founded the project in 1977 in memory of her late husband David, a former warden at Tsavo East National Park.
The center cares for young abandoned elephants and rhinos and works to release the animals back into the wild. You can watch these lovable creatures up close as they frolic in the mud and drink from giant baby bottles. Best of all, your entrance fee helps support the project's conservation efforts.
If you want to help even more, consider adopting an orphaned elephant, rhino, or giraffe – you'll receive regular updates on their progress long after you leave.
Address: Mbagathi Road, Nairobi
Official site: http://www.sheldrickwildlifetrust.org/
3. Giraffe Centre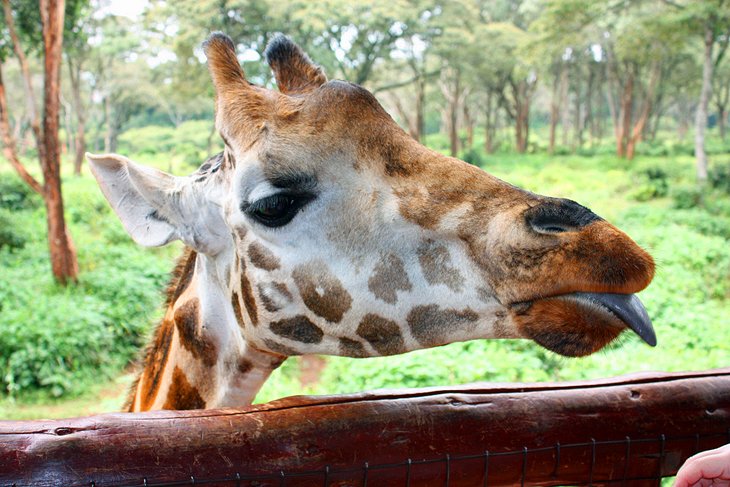 At the Giraffe Centre, on the edge of Nairobi National Park, visitors can come face to face with endangered Rothschild's giraffes. This non-profit center lies on the grounds of the plush guesthouse, Giraffe Manor, and its main mission is to provide conservation education for children.
The visitor center displays information about these graceful creatures, and a raised platform allows you to feed them at eye level with specially prepared pellets.
This is one of the most unusual things to do around Nairobi, especially with children – photo ops with wet, gray giraffe tongues slurping little faces are priceless.
After communing with these long-lashed beauties, you can enjoy a 1.5-kilometer self-guided forest walk in the adjacent nature reserve.
Address: Langata Road, Nairobi
Official site: http://giraffecenter.org/
4. Karura Forest Reserve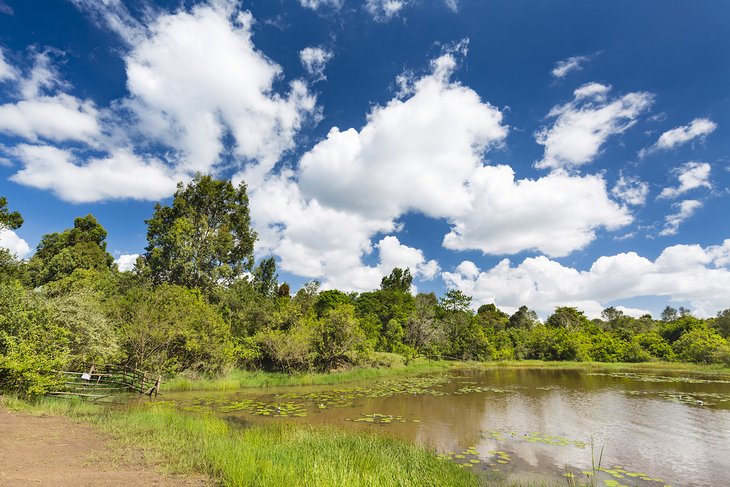 Are you craving some solitude near the city? You're in luck. The beautiful Karura Forest is a cool, shady oasis just a few kilometers from the city center.
This lush green space is actually one of the largest urban forests in the world, and you'll discover all kinds of things to see and do here. Hike to a multi-tiered 15-meter waterfall. Enjoy a picnic in the gardens. Watch monkeys clamber through the trees, or just sit quietly by Lily Lake and soak up the tranquility. Bike riding is also popular along the well-marked red-clay trails.
Wildlife also thrives here. Besides monkeys, you might also see duiker (small antelope), butterflies, and many species of birds. After all your forest adventures, sit back and relax with a snack and a drink at the open-sided river café.
5. Karen Blixen Museum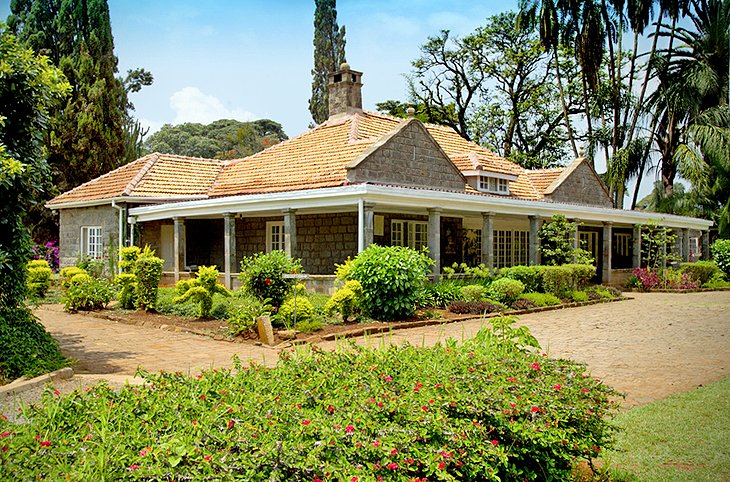 One of Nairobi's top tourist attractions, the Karen Blixen Museum, at the foot of the Ngong Hills, is the former home of the famous namesake Out of Africa author. Karen Blixen, also known by her pen name, Isak Dinesen, lived in the house from 1917 to 1931, where she ran a coffee plantation.
Today, you can tour the well-preserved colonial farmhouse, a kitchen in a separate building, a coffee-drying plant in the woodland, and an agricultural college on the grounds.
Furniture that belonged to Karen Blixen and her husband is on display, as well as photographs and books owned by Karen and her lover, Denys Finch Hatton. Enthusiastic guides bring the story of Karen Blixen and colonial Kenya to life.
Address: Karen Road, Nairobi
Official site: http://www.museums.or.ke/karen-blixen/
6. Nairobi National Museum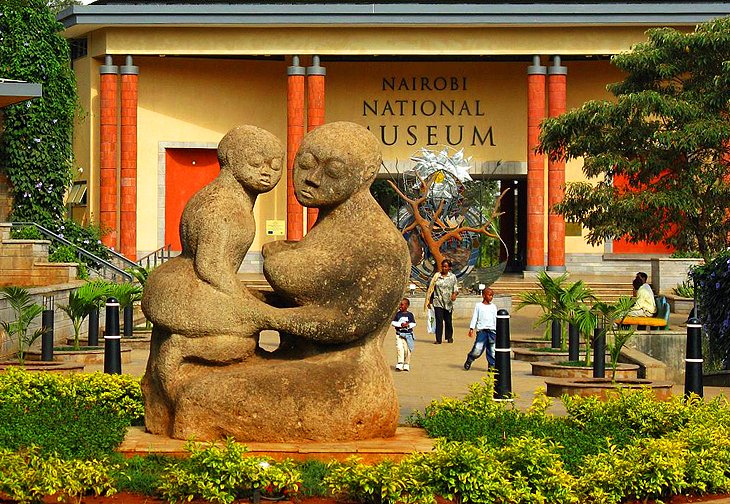 The National Museum in Nairobi is an educational way to spend a few hours on a city stopover. The museum displays diverse cultural and natural history exhibits including more than 900 stuffed birds and mammals, fossils from Lake Turkana, ethnic displays from various Kenyan tribal groups, and exhibits of local art.
In the Geology Gallery, you can explore an impressive collection of rocks and minerals and learn about tectonic plates and the life cycle of a volcano. The Hominid Vault contains a collection of prehistoric bones and fossils, including the preserved fossil of an elephant.
At the museum, visitors can purchase combination tickets, which include entrance to the adjacent Snake Park with live specimens of Kenya's most common reptiles.
If you're looking for a dose of nature on your Nairobi trip, save time to stroll around the tranquil botanical gardens here after your visit.
Address: Museum Hill Road, Nairobi.
Why would Americans rather drive their car for days than take the train?
In the USA, taking a train is more complicated than flying or driving. Train stations are in shady neighborhoods where you don't want to walk or park your car. In Europe and Asia, the stations are in the center and you can hop on the Metro train from the main train station.
Further, in the USA, freight rail takes the right-of-way, so your train may be delayed 12 hours or so. It's not convenient. It's more of an 'experience' to take the train than a convenience.
The story of a London woman who lay dead unnoticed for two years
Joyce Vincent was a 38-year-old woman from London with a family and friends. It over two years for people to realize she had died.
Joyce Vincent's apartment that is on the messy side with piles of unopened mail by the door and a sink full of dishes. There's a glow from the television playing BBC1 and a pile of wrapped Christmas presents waiting to be sent out.
This was the state of the apartment that belonged to Joyce Vincent when officials from a north London housing association entered it. Vincent was there too. However, she was almost entirely unidentifiable. Her body was mostly decomposed, as she had been dead for just over two years.
Joyce lived in London in a bedsit, a type of social housing in the United Kingdom. The officials who came to her apartment on January 5, 2006 were there to repossess it due to unpaid rent. Though, it's estimated that she died sometime in December of 2003.
Neighbors didn't really know her, thus didn't really notice her absence. The only detectable thing was a bad smell, which they attributed to garbage bins below the apartment.
Joyce was found on the floor, clutching a shopping bag. Because her remains were mostly skeletal, she was only able to be identified through dental records. It also had been too long to determine a cause of death, though police suggested she died of natural causes after a criminal investigation ruled out any foul play. Joyce reportedly had asthma and it's been speculated that she may have had an attack.
With a cause of death essentially placed, only one question remained: how could someone be dead for two years and no one take notice?
Not that anyone deserves to die and go unnoticed for several years, but it was particularly strange that nobody seemed to know Joyce Vincent had passed away. She was 38 years old, she worked for most of her life, she had family and friends, and wasn't known to be on drugs or in any legal trouble.
Carol Morley, a filmmaker who read about Joyce in the news, was so perplexed by the story that she decided to make a documentary title Dreams of a Life on it. In doing so, she tracked down people like ex-boyfriends and old colleagues of Joyce who could possibly shed some light on her mysterious death.
Martin Lister had dated Joyce Vincent for three years and kept in touch with her sporadically until 2002. He only learned of her death when he saw Morley's ad for people connected to Joyce. The revelation shocked him as he told Morely that she was a hard worker who had great jobs.
Lister was also surprised that she had been living in public housing.
"You look back and think, I wish I'd asked more, wish I'd understood more," he told Morley.
As more people came forward and more details emerged, it seemed that Joyce's life was shrouded in mystery.
She had worked for the big accounting firm Ernst & Young until she quit in 2001 without giving a reason. Colleagues recalled conflicting stories about her departure. Some said she was traveling with a group of 20 people, others said she had been headhunted for another job.
An article from the Glasgow Herald reported that friends categorised her as someone "who walked out of jobs if she clashed with a colleague, and who moved from one flat to the next all over London. She didn't answer the phone to her sister and didn't appear to have her own circle of friends, instead relying on the company of relative strangers who came with the package of a new boyfriend, a colleague, or flatmate."
It was also revealed that Joyce spent time between her departure from the firm and her death in a home for refugees of domestic violence.
As for family, she was the youngest of five sisters but the only one living in the U.K. Her father worked as a carpenter and her mother died when she was just a child.
Joyce had apparently isolated herself from her family in the years before her death, presumably because of the man she had chosen to date.
While the amount of time that went by after Joyce Vincent's death continues to be baffling, it's become clear that the life she seemed to lead didn't always match up with what was happening beneath the surface.
It's an ironic and coincidental tale. In the age of social media, where everyone is so connected, the idea that a seemingly average person could remain dead for over two years without anyone raising a question sounds crazy. But at the same time, just as people have a tendency to post their best selves on social media, it's possible Joyce Vincent did this in real life. Nobody knows what happens behind closed doors.
Joyce Vincent's story is as sad as it is strange. People like Martin Lister who knew her and found out about her death wished that they'd had stayed in contact and checked in with her more often. It serves as a reminder that person-to-person communication still has its place and is important.
Cristiano Ronaldo has stopped dribbling but Messi hasn't. Here's why.
Cristiano Ronaldo, over the years, has made many changes to his approach towards games in recent years and is more of prolific goalscorer.
The Portuguese even admitted he no longer walks onto the pitch wanting to dribble past everyone.
The former Juventus and Real Madrid man was once regarded as one of the fastest players in the world but as age has caught up with him, he is no longer the pacy winger the world witnessed in his early Madrid and Manchester United days.
Ronaldo has a different mentality to Messi. Ronaldo is described by teammates and coaches as borderline insane in how obsessed he is with winning and scoring.
As a result of playing in the UK where skill is less regarded, some natural talent, as well as this abnormal obsession with personal success, we ended up with a player who became a goal-scoring machine. He doesn't have time to dribble. You can see that efficiency is at the heart of all of his movement and play.
Ronaldo was magnificent in his first season or two. He was skillful. He was magnificent. And probably the most skillful European player ever at that age. Other notable players in that category are Bergkamp, Henry, Figo, Mbappe.
However, with Ferguson as a guide and teammates who only cared about winning, his 'new style' made him an automatic choice in the starting team and within a year or two best player in the EPL.
So his dribbling stopped in England. If he does now it's just to make a small space to shoot or score.
Messi is just a different kettle of fish. He is a South American (skill is highly rated there) and was raised in best academy for producing skillful players in Europe. Therefore his game has a somewhat European efficiency but he retained the South American style.
On a body mechanics level, he is a left footer which makes the angle he dribbles at harder to defend, he is tiny, insanely quick and very strong. Therefore his skill works more or less all the time. He hasn't 'needed' to adapt his game to have success. That's why he is somewhat one dimensional but for Barcelona with such other great players around he is an immortal.